1. Hurricane Gonzalo (October 17-18)
Video from Port Bermuda Webcam shot as the northern eyewall of Hurricane Gonzalo approaches with hurricane force easterly winds and torrential rains.
Making landfall in west-central parishes less than a week after Hurricane Fay, Gonzalo brought violent and damaging winds with gusts up to 144mph measured at St. David's Lighthouse. Gonzalo's heavy rains resulted in minor flooding for low-lying/poor drainage areas, while the high winds resulted in minor coastal flooding (from storm surge) and erosion.
2. Hurricane Fay (October 11-12)
Video from Port Bermuda Webcam shot as Hurricane Fay pulls away. Hurricane force northwesterly winds are seen here. This is the same location as the previous video, note the palm trees blowing in the opposite direction.
Surprising many with its ferocity, Hurricane Fay lashed Bermuda with gusts up to 123mph at Commissioner's Point, Dockyard when it made landfall in the eastern part of the island on the 12th. Fay's winds resulted in widespread tree damage and isolated minor structural damage. Record rains in August, and above normal rains in September and October prior to the storm likely led to unusual vegetative growth. That combined with the wetter ground possibly contributed to the severe tree damage.
3. Waterspouts (September 29)
One of a series os non-tropical, small scale lows that formed near Bermuda in August and September. This system produced several waterspouts to the east and southeast of the island and brought gusty winds up to 35mph to the airport as the center of the low passed over the island. The Bermuda Weather Service typically observes funnel clouds/waterspouts/tornadoes 5 times a year, mainly in August and September.
4. Record Wet August
Tropical moisture funneling out of the Caribbean and Tropical Atlantic was squeezed out by a nearby stationary front that lingered as at least an area of troughiness for much of the month. This led to several instances of minor flash-flooding in low-lying and poor drainage areas. The cloudiness that came with the rain allowed the island only 6.6hours of sunshine per day on average, that combined with rain-cooled air resulted in several record lows and an overall cooler than normal August (roughly 2.5-3.0°F below climatology). Showers turned thundery with isolated squalls at times as they frequented the island with their heavy rains totaling 14.09inches for the month. The heavy rains in August contributed to 2014 totaling 68.24″, or 11.33″ more than the 'normal' of 56.91″.
5. Unusual Winter Warmth (February)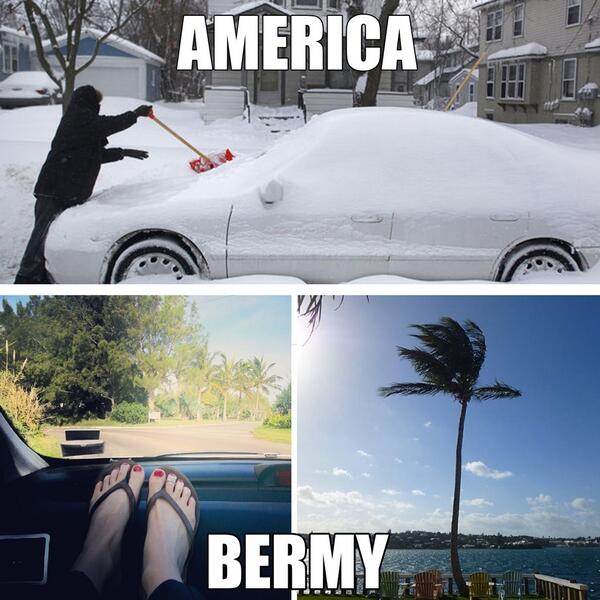 While much of North America experienced their coldest winter in several years, Bermuda enjoyed one of the warmest in several years. With high temperatures typically 68-71°F in these months, there were 7days when the high was five or more degrees above climatology (1971-2000), five degrees above climatology regularly puts temperatures in record territory in Bermuda. The warmth peaked in February, when temperatures were around 2.5-3.5°F above climatology. This allowed unusually warm seas that had temperatures 4.3°F above climatology (1985-2000) in February. These warm seas possibly led to January and February also being unusually wet – regionally adding more moisture to the air.
With that I wish all a happy New Year and all the best in 2015.